No doubt that today, being Valentine's Day, will see millions of couples step out for a luxurious, or intimate, or purely romantic dinner. So it's the perfect day to present Part 2 of our super sex foods. (You can read part one here)
Here's 6 more yummy foods that will boost your sex life…

7. Eat More Fruit
Did you know that men who consume at least 200 milligrams of vitamin C a day improve their sperm counts and motility? In fact Vitamin C has even been shown to be effective in reversing infertility in some men (University of Texas) in as little as 14 days.
And while you're in the grocer don't forget the Watermelon. It's filled with high concentrations of the good-for-your-heart, good-for-sex phytonutrients lycopene, beta carotene, and, the big one, citrulline. Citrulline is particularly exciting for its ability to relax blood vessels, according to studies at Texas A&M University. When you eat watermelon, the citrulline is converted to the helpful amino acid arginine. Arginine boosts nitric oxide, which relaxes blood vessels, the same basic effect that Viagra has, to treat erectile dysfunction and maybe even prevent it.
8. Red Meat & Red Wine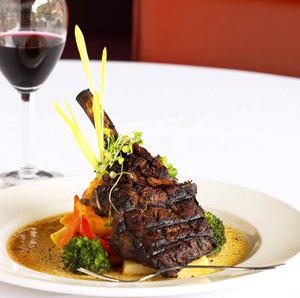 Alot of people are going to like this one. Italian researchers recently found that the antioxidants and alcohol in the wine may trigger the production of nitric oxide in the blood, which helps artery walls to relax, increasing blood flow to the genitals. Just limit yourselves to a glass or two. More alcohol than that can put a damper on sexual performance and lead to bed spins of a not-very-sexy nature. Worth noting: even teetotalers can benefit from the red grape. Dark grape juice contains antioxidant polyphenols that protect the cardiovascular system and help keep skin flexible and elastic.
Which brings us to red meat. Lean cuts are great sources of zinc, a mineral that curbs production of a hormone called prolactin, which at high levels can cause sexual dysfunction, according to Berman. Zinc is also a key muscle-building nutrient, and the high concentrations of conjugated linoleic acids (CLA) in beef, studies show, may spur weight loss. Choose filet mignon or other deep red cuts with round or loin in the name, because they are the leanest.
9. Beans (a.k.a. Protein)
Protein is so important to weight maintenance that you should eat it with every meal and snack. Proteins boost metabolism a little more during digestion than any other type of food. Plus protein increases metabolism by helping to build muscle and stall the muscle loss that naturally happens as we age. Muscle is more metabolically active than fat is, so the more lean muscle on your body the better at burning calories it will be. Plus, well-toned abs and thighs are nice to look at when unadorned by clothing. So, how do you eat more protein without going overboard on eggs and meat? Beans—they're good for the heart and your glutes. Kidneys, garbanzos, black beans, and navy beans are full of muscle-building protein.
While they may not be the best choice for a side dish if you plan on sex for dessert, building your meal plan around a foundation of beans and legumes will ultimately pay off for you sexually. Many studies show that bean eaters are leaner and healthier than people who don't eat beans. According to one study in the Journal of the American College of Nutrition, people who eat 3/4 cup beans or legumes a day have lower blood pressure and smaller waists than people who get their protein from meat. Beans are also full of cholesterol-lowering soluble fiber. A quarter cup of red kidney beans delivers 3 grams of fiber, plus more than 6,000 disease-fighting antioxidants. Navy beans are particularly rich in potassium, which regulates blood pressure and heart contractions, something you'll need as your heart starts racing when he does that special move that makes you melt.
10. Fresh Fish

Well, to be more specific – fatty fish. If what's good for your heart is good for your love life, then fish like salmon, mackerel, sardines and tuna should feature regularly in your meals.
The omega-3 fatty acids DHA and EPA found in fish help to raise dopamine levels in the brain that trigger arousal, according to sexologist Yvonne K. Fulbright, PhD. Other health benefits: anti-inflammatory properties that fight blood clots and heart arrhythmias, better brain function, and protection against dementia. Studies show that omega-3s can also reduce symptoms of depression. Research from the University of Pittsburgh showed that people with high omega-3 blood levels were happier and more agreeable. Tell us that can't help you get more sex!
Fish is one of the many healthy foods that contain the amino acid L-arginine, which stimulates the release of growth hormone among other substances and is converted into nitric oxide in the body. It's worth repeating: nitric oxide is critical for erections and it can help women's sexual function as well by causing blood vessels to open wider for improved blood flow.
11. Oats & Grains
Did you know a bowl of Uncle Tobys' finest is one of the few ways to boost testosterone in the bloodstream?
The male hormone plays a significant role in sex drive and orgasm strength in both men and women. Oats (as well as seeds, ginseng, nuts, dairy, and green vegetables) contain L-arginine, an amino acid that enhances the effect nitric oxide has on reducing blood vessel stiffness. L-arginine has been used to treat erectile dysfunction. Like Viagra, it helps relax muscles around blood vessels in the penis. When they dilate, blood flow increases so a man can maintain an erection.
Oatmeal and other whole grains like whole-grain bread, brown rice, and barley also qualify as good-for-the-heart, better-for-the-gut foods. They are slow-burning, complex carbohydrates that won't drive your blood sugar through the roof. They keep you feeling fuller longer and provide excellent energy. Try a bowl of steel-cut oatmeal with fresh berries and bananas with a drizzle of honey before your next marathon sex session.
12. Oysters & Shellfish
Oysters have long held their reputation as an aphrodisiac (though that is historically attributed to their shape and visual appeal), however raw oysters do have a strong connection to sexual function.
Oysters hold more zinc than most any other food, and it is believed that this mineral may enhance libido by helping with testosterone production–higher levels of the hormone are linked to an increase in desire. Zinc is also crucial to healthy sperm production and blood circulation. While Casanova reportedly ate 50 raw oysters a day, about six will provide double the recommended daily allowance of 15 mg of zinc.
To spice things up a bit, try a few dashes of hot sauce on your raw oysters. Other good sources of zinc are shrimp, red meat, pumpkin seeds, poultry and pork, eggs, and dairy products.
No matter what you're serving, make it healthy, yummy and sensual – and remember, food  does more than set the mood, it's also vital to the way we want to play.
Tags: diet, food for sex, health, sex guide, sex help